---
Ace Over Normandy by Anthony Saunders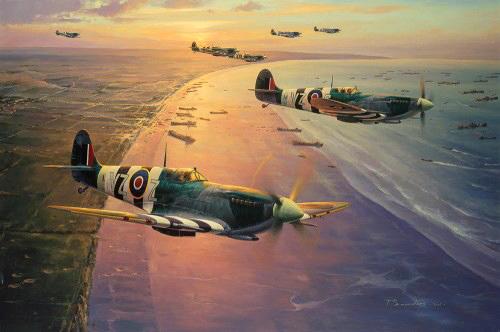 ---
Ace Over Normandy by Anthony Saunders features Spitfires of 412 Squadron over the D-Day beaches.
The scourge of the Luftwaffe, the Spitfire was the only Allied fighter to remain in full production and front-line RAF service before, during and after World War Two. From iconic hero of the Battle of Britain, through the Normandy Campaign and all the way to the skies over northern Germany in May 1945, the Spitfire remained one of the finest and most deadly fighters ever to grace the skies and few fighter pilots would have willingly traded their Spitfires for any other.

"I have nothing but praise for the Spitfire, the finest of all RAF combat aircraft. It was a thoroughbred through and through...." said highly-respected fighter Ace Sandy Johnstone who, at the age of only 24, had commanded 602 Squadron during the Battle of Britain. In June 1944 Sandy Johnstone was serving on Eisenhower's D-Day headquarters staff during Operation Overlord and fittingly it is D-Day that artist Anthony Saunders has chosen as the backdrop to his stirring tribute to the Spitfire in her role as the Allies fought to liberate Europe.

Ace Over Normandy portrays the Mk.IXb Spitfires of 412 Squadron RCAF, one of the 55 Spitfire squadrons that took part in D-Day air operations between 5 and 7 June 1944. Tasked with providing cover, Anthony depicts the squadron at the end of a long day shortly before they finally turn for home after a final sweep to encompass the scene over Utah beach where men and armour from the U.S. VII Corps continue to pour ashore. In the foreground is the Spitfire of Don Laubman who would become one of Canada's top-scoring Aces.

Ace Over Normandy by Anthony Saunders is personally signed by the artist.
Artist:
Anthony Saunders
From:
Military Gallery
Edition:
275
Size:
image 22 x 14.5 in. Overall 26 x 19.5 in.
---
This website is Copyright 2021. All Rights Reserved.
The item has been added to your basket