---
Churchills Advance by Nicolas Trudgian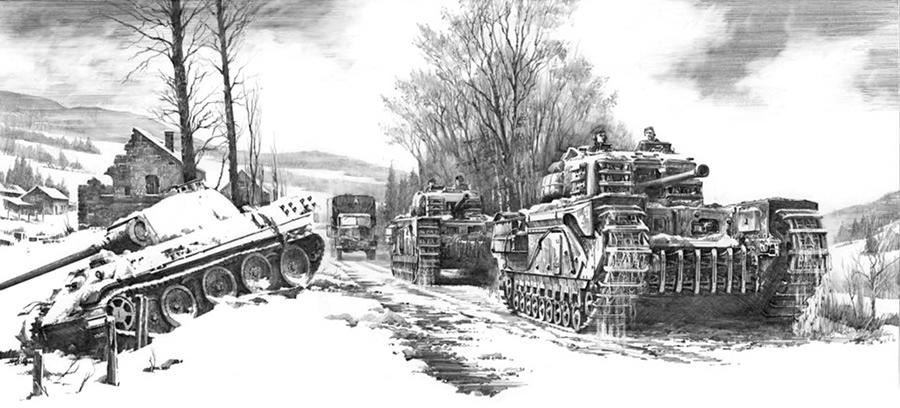 ---
Churchills Advance by Nicolas Trudgian features British Churchill tanks during the Battle of the Bulge.
In the snowy hills and forests of the Ardennes, in January 1945, the German army's last great thrust in the West comes to nothing as a lack of fuel and ammunition bring even the mightiest of tanks to a cold demise. With the roads swept clear of abandoned armour the Allies head east towards the German heartland and final victory. 
Churchills Advance by Nicolas Trudgian is signed by four British veterans who fought in the Ardennes offensive:
Alan King – 2 troop "B" Squadron – 1st East Riding Yeomary -D-Day 6 June 1944 - Sword Beach - Ardennes December '44 - Sherman Tank.
Jack Woods – 9 RTR – 34 Armoured Brigade – Juno Beach 19 June '44 – Ardennes – Villers aux Toues - Marstric Bridge – Churchill Tank.
Leonard Fox – 53rd Welsh RASC – Dispatch Rider- D-Day 6 June '44 – Gold Beach – 50th Northumberland- Hells highway - Nijmesan – 30 Corp (Market Garden) – Ardennes La Roche December '44.
Ted Bootle – RASC Attached to 6 Airbourne – D-Day 6 June '44 - Resupplied Major Howard at Pegasus Bridge - transported troops and ordinance to Ardennes December '44.
Artist:
Nicolas Trudgian
From:
Vector Fine Art
Edition:
75
Size:
16.5 x 11.5 inches overall including borders.
---
This website is Copyright 2021. All Rights Reserved.
The item has been added to your basket