A limited edition book and print set paying tribute to the crews of the famous Dambusters raid of 1943. 
The print, Dambusters - Leading the Way: on the night of 16 / 17 May 1943, nineteen specially modified Lancasters of 617 Sqn left RAF Scampton to attack the mighty dams of the Ruhr valley using an ingenious 'bouncing bomb'. What followed would become legendary as one of the most audacious bombing raids ever attempted, and within hours the destruction of the Möhne and Eder dams would wreak havoc with the German war machine.
This cameo drawing by Robert Taylor portrays the Lancaster of Wing Commander Guy Gibson leading the first wave with precision low flying over Holland en-route to the Möhne dam.

Dambusters - Leading the Way is signed by the artist along with two RAF veterans who served with 617 Squadron on the Dambusters raid:
Sqn Ldr GEORGE 'JOHNNY' JOHNSON DFM
The Bomb Aimer on Lancaster AJ-T that attacked the Sorpe Dam, scoring a direct hit.
Cpl KEN LUCAS
A Ground Crew Fitter who installed the special modifications to the Lancasters for the raid. 
The book, We Will Remember Them: this unique insight into the life of Guy Gibson – the leader of the Dambusters Raid – is written by the man who devoted himself to tend Gibson's grave and final resting place in Holland, Jan van den Driesschen.
Compiled with Gibson's widow, Eve Gibson, this fascinating book is packed with photographs, diagrams and illustrations telling the story of Operation Chastise as never before. 
The book is numbered to match its accompanying limited edition print.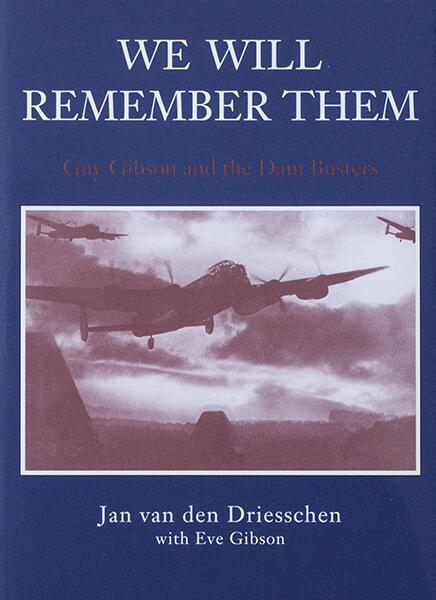 Pages: 164 including a number of period photos.    ISBN: 1 85297 084 7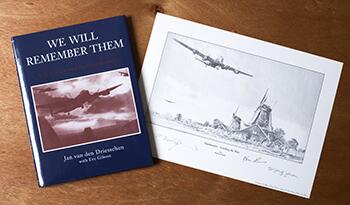 print 12 x 8.75 inches overall including borders. Book 7 x 9.25 inches.