Greetings Cards Frames
You can turn a simple greetings card into an ideal small gift, or use one or more to create an inexpensive display for a study or office. Most of the cards on this site can be ordered double mounted or double mounted and framed.
Double mounted cards - these will have a light toned outer mount and a second inner mount of the same colour or possibly a different colour depending on what suits it best. A third piece of mount board is used as backing. The finished article is presented in a clear wrapping and could be given as a gift as it is. The outer dimensions are always made up to a standard size so you can easily find a ready-made frame to fit if you choose.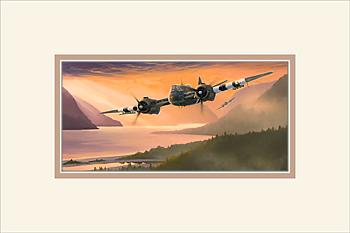 Framed cards - alternatively we can supply the cards already fitted into an attractive ready-made frame. The frames are designed so that you could easily remove the mounted card and replace it with a new one if you fancied a change. The frames have the fittings needed to both stand them on a desk or shelf or hang on a wall in either landscape or portrait style.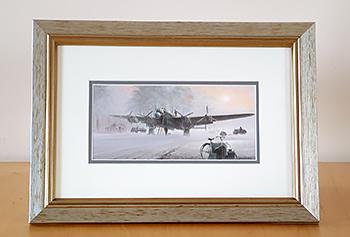 The standard type of frame we use is pictured above. It is an excellent quality frame, finished with a subtle mix of gold and silver tones. It has been carefully chosen to look good with most room styles and colour schemes.
Alternative frame style - shown below is a different frame style which you may prefer. It is a traditional wood style with a small gold inlay. The prices and dimensions are all the same as the standard frame.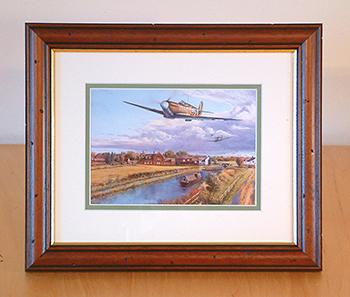 If you would like this style instead just put a note in the 'Comments' box as you check out of the online shopping cart. Or give us a call on 0121 355 1333. Or email us on sales@aviationartworld.com (Important note: email is not 100% reliable so if you do not receive a reply within 24 hours please call us in case the email has not got through).
Custom Framing - If you would like something a little more ambitious such as mounting with a squadron crest or pilot wings, or maybe you would like several cards mounted in the same frame, then just contact us with your requirements.