A tribute to the fearless WW2 pilots of RAF Bomber Command.

A superb limited edition album that looks closely at 26 distinguished and highly decorated Bomber Command veterans including five holders of the Victoria Cross. First released in 1984 by the Military Gallery, the album comprises 26 printed sheets (each protected in the album by a sheet of clear acetate), one per pilot, each of which has a pilot bio, notes on their squadrons, combat reports and aircraft types flown, a wartime photo and illustrations of their medals for gallantry - each profile is personally signed by the pilot.

The veterans featured include Norman Jackson VC, Bill Reid VC, Sir Ivor Broom, Sir Harold Martin and Marshal of the Royal Air Force Sir Michael Beetham. The album cover is in RAF blue with titling and the RAF crest embossed with gold leaf. A rare opportunity to acquire this much sought after collection of signatures.

Full list of signers:
G/Capt 'Hamish' Mahaddie DSO, DFC, AFC & Bar
W/O Norman Jackson VC
A.V.M. 'Pathfinder' Don Bennett CB, CBE, DSO, Order of Alexander Nevsky
Ft/Lt Bill Reid VC
Marshal of the RAF Sir Michael Beetham GCB, CBE, DFC, AFC
Air/Com John Searby DSO, DFC
Air Marshal Sir Harold Martin KCB, DSO & Bar, DFC & 2 Bars, AFC
W/O Derek Tulloch DFC, DFM
F/O W.S. Parker DFC
Air Marshal Sir Ivor Broom KCB, CBE, DSO, DFC & 2 Bars, AFC
F/O Roland Hammersley DFM
Wing Commander Roderick Learoyd VC
G/Capt J (Willie) Tait – sunk the Tirpitz – DSO & 3 Bars, ADC
Flight Lieutenant Victor Azzaro MBE, DFC & Bar
W/C Roy Ralston DSO & Bar, AFC, DFM
Flt/Lt John Benison DFC
Flt/ Lt Douglas Cameron DFM
G/Capt Leonard Cheshire VC, OM, DSO & 2 Bars, DFC & Bar
F/O Danny Daniel – aimed the bomb which sunk the Tirpitz – DFC
Squadron Leader D J Shannon – RAAF – DSO & Bar, DFC & Bar
Squadron Leader John Costello DFC, DFM
Air Chief Marshal Sir Wallace 'Digger' Kyle, RAF & RAAF, GCB, KCVO, CBE, DSO, DFC
G/Capt Leonard Trent VC, DFC, ADC
Air Chief Marshal Sir Lewis Hodges KCB, CBE, DSO & Bar, DFC & Bar
G/Capt Ken Batchelor CBE, DFC
Air Chief Marshal Sir Augustus Walker GCB, CBE, DSO, DFC, AFC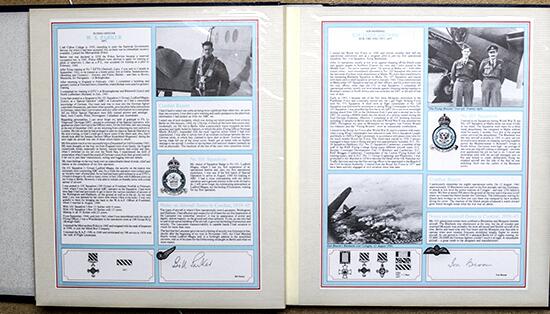 Pages: 26
Condition: the album is in excellent condition overall with very little evidence of handing.

Comes with Certificate of Authenticity.