A rare copy of Robert Taylor's first volume of air combat paintings containing a superb set of rare signatures including two VC holders and the Luftwaffe's highest and third highest scoring Aces.
First published in 1987 this fine collection of Robert Taylor's aviation paintings did much to boost an already rapidly accelerating popularity, with many purchasers of this book later becoming collectors. The first part of the book is a detailed chronicle of Robert Taylor's life and artistic career, generously illustrated with plenty of pencil sketches. The second part of the book looks at his paintings. Each painting has four pages devoted to it containing a description by the artist of how it came about, how he approached it, working sketches and plenty of stories recounting the support given by famous aviators. Overall presentation is to a very high standard. Foreword is by Air Vice Marshal 'Johnnie' Johnson CB, CBE, DSO, DFC.

The bookplate inside is signed by twelve highly distinguished WWII pilots:

Air Vice Marshal JOHNNIE JOHNSON - Allied Airforce's top-scoring Fighter Pilot, WWII.
Air Commodore ALAN DEERE - Brilliant New Zealand Fighter Ace.
Wing Commander DON KINGABY - Highly decorated Battle of Britain Ace
Flight Lieutenant BILL REID, VC - Legendary Lancaster bomber pilot.
Flight Engineer NORMAN JACKSON VC - One of Bomber Command's most famous VC's.
General LEON JOHNSON - Distinguished Congressional Medal of Honor Winner.
Colonel ROBERT MORGAN - Skipper of the famous Memphis Belle.
Colonel 'HUB' ZEMKE - Ace commander of 'Zemke's Wolfpack'.
Colonel DON BLAKESLEE - High-scoring 4th Fighter Group Ace.
General ADOLF GALLAND - Commander, Luftwaffe Day/Night fighters.
Colonel ERICH HARTMANN - Highest Scoring Fighter Ace in history.
General GUNTHER RALL - Third highest scoring ace of all time.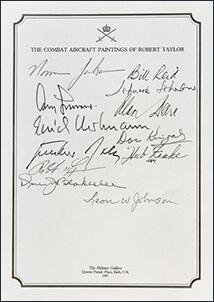 The bookplate: in 1987 the Military Gallery released the first first book of Robert Taylor's combat paintings. In addition to the standard book there was also a limited edition version of 1000 copies that were signed and numbered by the artist and included a bookplate with the signatures of 12 prominent combat pilots. We believe this bookplate was one of a number of spares produced. In the event of a book being lost or damaged in the post the publishers would get the artist to sign and number accordingly so they could create a replacement thus not losing the sale. A very small number of unused bookplates were subsequently obtained by collectors. This particular one was then attached to a standard copy of the book.

This copy was printed in 1988 and is one of a number produced by Book Club Associates under license from the publishers David and Charles. It is in excellent order throughout with little sign of ever being opened and read, it provides an excellent vehicle for the bookplate.
Colour plates: 39    Pages: 128    ISBN: 0-7153-9008-2
Book Club Associates reprint - hardback 1988.