A deluxe copy of the book 'Robert Taylor - Air Combat Paintings Volume V' with a matching numbered copy of the Limited Edition print Top Cover. This is the RAF version.

A rare book and print edition that is now very hard to find.

The book: published in 2005, Robert Taylor Air Combat paintings Volume V was another fine addition to the growing series of books featuring the work of the world's leading aviation artist. A showcase for 32 images produced mainly between 2000 and 2005, this volume also contains a handful of paintings that at the time had not been released as limited edition prints, plus a great many pencil drawings. The colour plates are supplemented with many additional plates showing detail areas of the paintings. The quality and accuracy of detail in Robert's work makes this another essential must-have volume for his collectors around the world.
The book was been produced with the option of two different covers; an RAF version and a USAAF version. The limited edition versions came with matching numbered prints signed by WW2 veterans.
After a Foreword by Air Commodore Peter Brothers and an introduction by Major Charles Metcalfe there is a short biography of the artist - a subject that has been covered in some depth in previous volumes. There then follows a section dedicated to Robert's pencil drawings, a dozen excellent examples are introduced by the artist, many others are spread amongst the rest of the book.
The book is an RAF-cover version issued with the companion print Top Cover. It is presented in a high quality blue cloth slip case with the artist's signature gold blocked on the front cover. The book is signed and numbered inside by the artist.
The print: Robert Taylor's emotive painting recalls an event on on 6 October 1944. Led by Squadron Leader Tony Gaze, his flight of 610 Squadron Mk XIV Spitfires have picked up a severely damaged Halifax over Holland as it lumbers homeward after an attack on synthetic oil plants in Germany. Two crew members have been ordered by skipper Ted McGindle to depart the ailing bomber by parachute while he struggles on with other crew members too badly wounded to escape. Top cover provided by 610's Spitfires ensured this 462 Squadron Halifax made it home on that October day.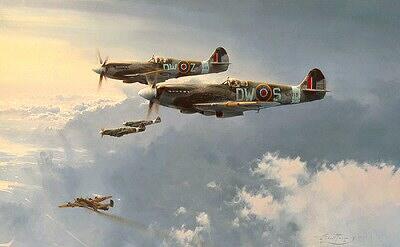 The veteran signatures: Robert Taylor's Limited Edition, Top Cover is individually signed and numbered by the artist and the two veterans whose stories are told in the painting:
Flight Lieutenant Edward Ted McGindle DFC
Squadron Leader FAO Tony Gaze DFC**

Condition: both book and print are 'as new'. Includes the original Certificate of Authenticity.
Griffon International.
book 14.5 x 11.5 inches (37 x 29 cm). Print 27 x 19.5 inches overall including borders.