A deluxe copy of the book 'Robert Taylor - Air Combat Paintings Volume VI' with a matching-numbered copy of the Limited Edition print Where the Eagles Gathered. This is the USAAF version.

The print: Where the Eagles Gathered
On 5 March 1944 the B-24 heavy bombers of the 448th Bomb Group took off from England, their mission - to destroy the Luftwaffe facilities at Limoges aerodrome in western France, a typical mission for the men of the US Eighth Air Force in the months that preceded D-Day. Success today would save many lives when that time came. But waiting for them were the Bf-109s of JG 2, ready to rip into the attacking force at the first opportunity. Luckily for the bomber crews they had one of the finest fighter escorts in the Mighty Eighth, Don Blakeslee's 4th Fighter Group - 'The Eagles". Robert Taylor's magnificent painting, set in one of his unmistakable majestic skyscapes, recreates a scene from that encounter with his unparalleled artistry. As a straggling B-24 comes under attack and its inner starboard engine starts to trail smoke, Steve Pisanos, one of the Fourth's most deadly Aces, and fellow P-51B pilots quickly arrive on the scene to break up the attack. The Liberator now has a chance to get home.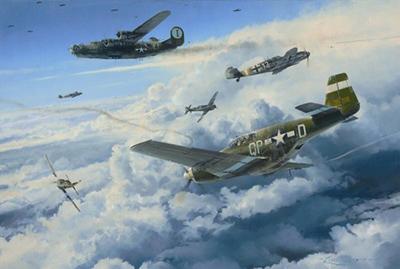 The book: Robert Taylor - Air Combat Paintings Volume VI - USAAF cover
Another fine addition to the growing series of books featuring the work of the world's leading aviation artist, Robert Taylor. A showcase for paintings produced mainly between 2005 and 2009, this volume also contains a great many pencil drawings. The colour plates are supplemented with many additional plates showing detail areas of the paintings. The quality and accuracy of detail in Robert's work makes this another essential must-have volume for his collectors around the world. The book is issued with a blue cloth slip case with the artist's signature gold blocked on the front cover. The book is signed and numbered inside by the artist.
Pages: 128
Condition: new copy.
The veteran signature:
Each copy of Robert Taylor's Limited Edition, Where the Eagles Gathered is individually signed and numbered by the artist and Colonel Steve Pisanos - 4th FG Hauptman Gunther Nordenholz.
Griffon International.
book 14.5 x 11.5 inches (37 x 29 cm). Print 27 x 19.5 inches overall including borders.