A rare Robert Taylor limited edition book and print portfolio.

A deluxe copy of the book 'Robert Taylor - Air Combat Paintings Masterworks Collection' with a matching numbered copy of the limited edition print 'Company of Heroes'.

The book: Robert Taylor - Air Combat Paintings Masterworks Collection
Published in 2001 this book is a fine collection of the best of his work to that point. Foreword is by Colonel Don Lopez, followed by a short overview of the artist. 70 paintings are featured, each title is given two pages comprising the colour plate, a related pencil sketch and a short narrative.
The book is issued with a blue cloth slip case with the artist's signature gold blocked on the front cover. The book is signed and numbered inside by the artist. It is issued with a Certificate of Authenticity from the publishers, the Military Gallery.

The print: Company of Heroes: a wonderfully detailed and evocative ground scene featuring the USAAF 34th Bomb Group at Mendlesham airfield, England in April 1945. Centre of the composition is the B-17 'Queenie' which has just returned - the co-pilot is already briefing the ground crew on the state of the aircraft after another gruelling daylight raid over Germany.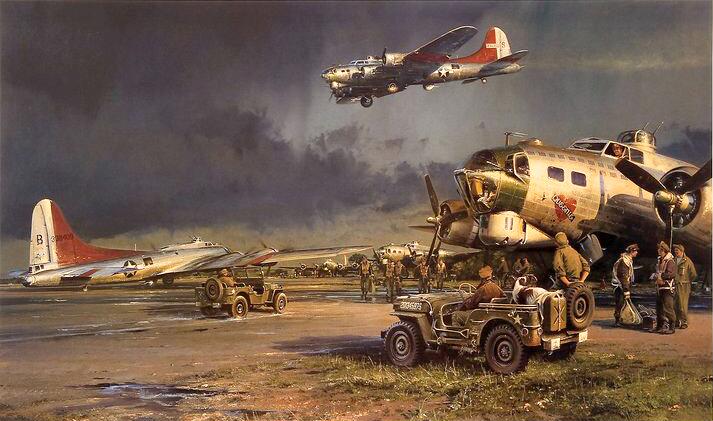 The print has been signed by two distinguished B-17 pilots who flew with the 34th Bomb Group:
Captain Rolland H Whited
Lieutenant Colonel Robert W Dees
Pages: 128
Condition: both book and print are in mint condition. Purchased directly from ourselves in upon its release in 2001, both book and print have been carefully stored with long term investment in mind.
book 11 x 9 inches (28 x 23 cm). Print image 26.5 x 16 inches (67 x 41 cm), 33 x 23.5 inches overall including borders.