The Biff Boys by Robert Taylor features a Bristol F2 Fighter in combat with an Albatross.
Comes with a companion print Camels on Patrol, taken from a Robert Taylor pencil drawing and signed by Henry Botterell.
On the morning of 30 November 1917, Lieutenant Andrew McKeever, a Canadian serving with II Squadron RFC, together with his observer/gunner Lieutenant Leslie Powell, climbed into their Bristol F.2b Fighter and took off alone; their task to fly a solo reconnaissance patrol over Cambrai, where the decisive battle involving tanks for the first time in history was raging on the ground below - it was to prove a remarkable day. 
As they flew over the enemy's lines they encountered a pair of German two-seater observer aircraft, protected by no fewer than seven enemy Albatross D.V scouts. Armed with a forward firing .303 Vickers machine gun and a ring-mounted Lewis gun in the back seat, McKeever skilfully manoeuvred his aircraft to engage one of the enemy scouts, and destroyed it. As he turned to get back to the Allied lines, five of the remaining enemy Albatross fighters dived on his tail; but Lt. Powell rapidly downed two of them in quick succession with deadly fire from his Lewis gun. Continuing the duel with the remaining Germans, McKeever managed to destroy a further Albatross when suddenly his observer's Lewis gun jammed. The pair seemed doomed, however McKeever, showing great courage and initiative, feigned disaster by rolling his aircraft over, plummeting it towards the ground. Fooled by the manoeuvre, the German aircraft climbed away, and McKeever levelled out just twenty feet above the ground and flew back to safety. 
Remarkably, all of McKeever's thirty-one victories were achieved at the controls of the Bristol F.2b Fighter, making him the highest scoring ace with II Squadron, and of any pilot flying two-seater aircraft during the First World War. Robert Taylor's aerial masterwork captures perfectly the scenario on that decisive morning in November 1917. Lt. Powell is seen pumping a deadly burst of machine gun fire into a diving Albatross as the aerial duel wheels and turns in a magnificent skyscape high above Cambrai. 
Prints of this impressive new painting 'The Biff Boys' are issued together with a matching-numbered companion drawing 'Camels on Patrol', signed during his lifetime by famous First World War fighter pilot Henry Botterell. This is an outstanding opportunity for aviation art collectors to share a moment of air combat history that happened almost a century ago.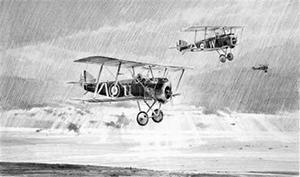 Each print in Robert Taylor's Limited Edition, The Biff Boys, comes with the companion print Camels on Patrol signed during his lifetime by WWI Camel Pilot Henry Botterell.
30 x 24 inches overall including borders.