The Biggin Hill Wing by Nicolas Trudgian features Spitfires from Biggin Hill in 1941.

Comes with two matching-numbered Companion Prints.
With the Battle of Britain won and the threat of Nazi invasion diminished, early 1941 brought orders from RAF High Command to take the fight back across the Channel to Hitler's forces in occupied Europe. At the fighter stations in No.11 Group, Wing Leaders were appointed to direct the offensive. These were men already proven to be outstanding squadron commanders, each now given three squadrons of fighters and told to conduct sweeps, probe the enemy defences and provoke the Luftwaffe to fight.
Distinguished officers such as Douglas Bader, Victor Beamish, John Peel and Harry Broadhurst rose to the challenge with zeal, but it was the appointment of Squadron Leader 'Sailor' Malan to lead the Biggin Hill Wing which did most to rewrite the tactics of air combat at this time. His 'Ten Rules of Air Fighting' became avid reading in every crew-room in Fighter Command. The fine spring weather of late May and early June brought almost daily conflict with the Luftwafte and each time the Wing's techniques were sharpened. At a time when Britain was effectively under siege, Fighter Command proved that they could hold their own against the enemy.
To commemorate the achievements of the Biggin Hill Wing, Nicolas Trudgian has excelled himself once again in his evocative painting of 'Sailor' Malan leading the Wing across the misty Kent countryside just after sunrise. The roar of three squadrons of Spitfire MkV's shatters the quiet dawn all the way to the French coast where raging battle commenced.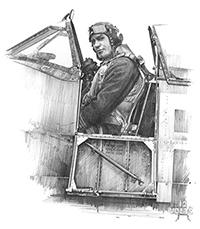 Companion Print - Sailor Malan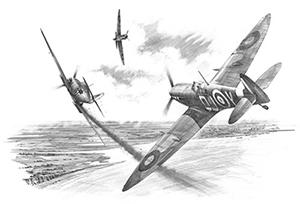 Companion Print - Duke's First Victory
Nicolas Trudgian's Limited Edition, The Biggin Hill Wing, is signed by:
Flight Lieutenant Sir Joe Atkinson KCB CB DFC 609 Squadron
Wing Commander John Freeborn DFC* 74 Squadron
Squadron Leader Geoffrey Wellum DFC 92 Squadron
Squadron Leader Neville Duke DSO OBE DFC** AFC 92 Squadron (Companion print)
Group Captain Allan Wright DFC* 92 Squadron (Companion print).
Vector Fine Art.
28 x 20 inches overall including borders.