The Legend of Colin Kelly by Robert Taylor features a B-17 and Japanese Zero in combat over Pearl Harbor.
Includes companion print Rising Sun (Zero).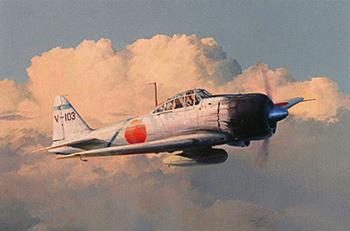 The second in a pair (the other being Remember Pearl Harbor) of commemorative editions remembering the Japanese attack on Pearl Harbor, and the events following, December 10 1941.
Captain Colin Kelly's 19th Bomb Group B-17C is outnumbered by Japanese Zero's as it returns to Clark Field in the Philippines, December 10, 1941. After completing a successful bombing attack on the Japanese heavy cruiser Ashigara, with his aircraft badly damaged and on fire, Kelly remained at the controls while his crew bailed out.  Seconds later the crippled B-17 exploded Colin Kelly became America's first World War II aviation hero, was posthumously awarded the Distinguished Service Cross, and a legend was born.
Each print in Robert Taylor's Limited Edition, Legend Of Colin Kelly, is signed by the two surviving members of Kelly's crew:
Master Sergeant James E. Halkyard
Staff Sergeant Robert E. Altman
Each companion print is signed by legendary Zero pilot Saburo Sakai.
33 x 25 inches overall including borders.