---
TSR.2 - Beyond the Frontiers by Stephen Brown - Cameo Print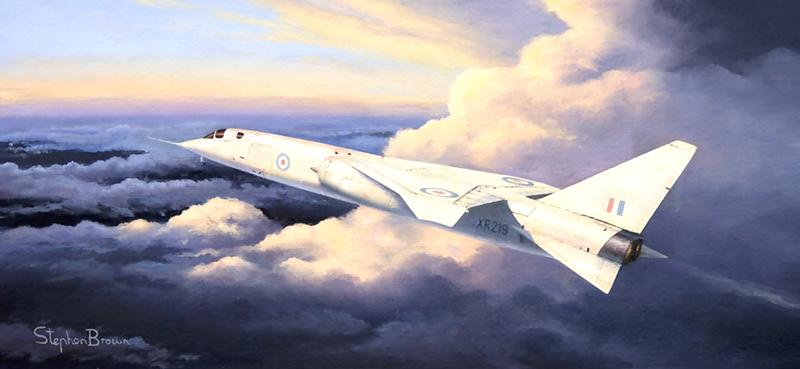 ---
BAC TSR.2 XR219 climbs through the cloud base during a test flight in early 1965.
The TSR.2 project was a technical triumph for its designers and engineers and is one of the most significant milestones in British aviation history. Created against the backdrop of the Cold War the TSR.2 was primarily designed to breach enemy defences by flying very fast and very low and then hitting high-value targets with either nuclear or conventional payloads. Its combination of stable handling at low altitude and high speed coupled with advanced terrain-following radar, sophisticated navigation system and all-weather capability far out performed any other aircraft in service at the time. In fact no aircraft before or since the TSR.2 has been designed to fly so low, so fast. Sadly the project fell victim to massive bureaucracy and the politics of the day and was ultimately cancelled before the aircraft could see service. In all seven prototypes were built but only XR219 ever made it into the air.
Double mounted print which is signed and numbered by the artist and supplied with a Certificate of Authenticity.
Artist:
Stephen Brown
From:
Stephen Brown Aviation Art
Edition:
25
Size:
14 x 9.5 inches overall mounted, image 9.5 x 4.5 inches.
---
This website is Copyright 2021. All Rights Reserved.
The item has been added to your basket