Victory Over Gold - D-D Anniversary Edition Artist Proof by Nicolas Trudgian features Spitfires of 401 Squadron over the Normandy beaches.
Special D-Day Portfolio Edition includes the Limited Edition pencil drawing Patrolling The Beach, featuring Spitfires of 401 Squadron over Gold beach on 6th June 1944.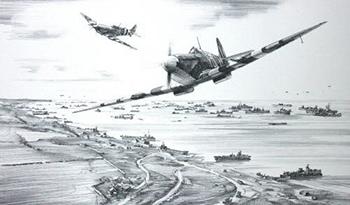 The morning of June 7, 1944 a dozen Ju88s appeared over Gold Beach, intent of making a diving attack on the heavily populated beachhead. The patrolling Spitfires of 401 Squadron wasted no time in getting into the fray. In the ensuing dogfight the Canadian pilots destroyed no fewer than six of the Ju88s, and the attack on the beach was averted.
Each print in Nicolas Trudgian's Limited Edition, Victory over Gold, is signed by 3 of the RAF's top Aces:
Air Commodore Peter Brothers
Wing Commander Christopher 'Bunny' Currant
Wing Commander Tom Neil.
In addition the Limited Edition pencil drawing Patrolling The Beach is signed by Canadian Spitfire pilot Flying Officer Arthur Bishop - son of the legendary WWI pilot Billy Bishop VC - whose aircraft is portrayed in the main print.
Published in 1999 this print sold out some time ago and is becoming increasingly difficult to find. This copy is in mint condition and comes with the original Certificate of Authenticity.
30 x 24 inches overall including borders.