Wakeup Call by Robert Bailey features Fw190s of JG3 attacking an Allied airfield.
Includes the Companion print Norway Patrol, a pencil drawing depicting Me109s of JG5 off the coast of Norway.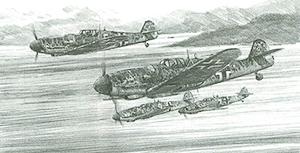 January 1st 1945 - fuel bowsers explode amongst parked Typhoons as Staffelkapitan Siegfried Mueller and his wingman Feldwebel Oscar Boesch of IV/JG3 lead a surprise strafing attack on the Allied aerodrome at Eindhoven, Holland.
Robert Bailey's Limited Edition, Wakeup Call (Eagle edition), is signed by:
Staffelkapitan Siegfried Mueller
Feldwebel Oscar Boesch
Staffelkapitan Richard Franz
Oberleutnant Kurt Schulze
Leutnant Theo Nau
Unteroffizier Herbert Dosch
Unteroffizier Fritz Weiner.
This print is being offered at a special promotional price - normal price would be £275.
Bailey Art and Publishing Inc.
34 x 24 inches overall including borders.