---
BSA Gold Star and Rocket Gold Star - Motorbike Greetings Card LM18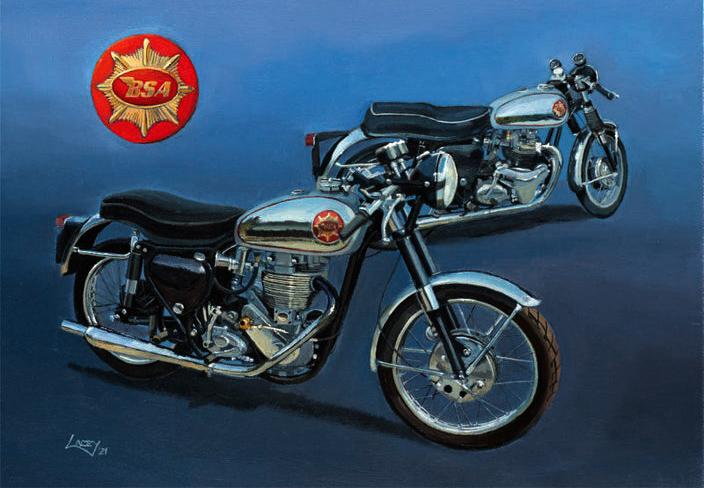 ---
Classic motorbike greetings card featuring a BSA Gold Star and a BSA Rocket Gold Star.
Among British motorcycles, the 500cc Gold Star holds a very special place for enthusiasts. The DBD34 'Goldie' was a motorcycle which technically should never have worked but has gone down in legend as having one of the fastest first-gears of any motorcycle to date (60mph was not uncommon). In addition, the valves of the single-cylinder engine, when coupled to a 'Goldie' silencer give a wonderful 'tweeting' sound on shutting down and when stationary. When Eddie Dow took a DBD34 Gold Star frame and re-engined it with a 650cc twin-cylinder unit from a BSA A10, the company did not initially wish to acknowledge the machine. However with Dow's success, the ordinary motorcyclist wished to have a machine with the same, scintillating performance. BSA therefore took the decision to release the Rocket Gold Star and for a short time they rolled off the production line.
A perfect greetings card for a classic motorcycle enthusiast.

More info on framing for greetings cards.
Artist:
Lee Lacey
From:
Hansen Fine Art.
Size:
7 x 5 in (18 x 12 cm), mounted size 10 x 8 in (25 x 20 cm).
---
This website is Copyright 2021. All Rights Reserved.
The item has been added to your basket