Against All Odds, a rare Robert Taylor limited edition print featuring a German U-Boat in a deadly contest with a PBY Catalina.

Signed by seven Kriegsmarine submariners - all holders of the Knight's Cross.
Robert Taylor's superb painting portrays the renowned defiance of the U-Boat crews. Caught on the surface by a PBY Catalina the gun crews of a type VIIc U-Boat are quickly into action. The 3.7cm anti-aircraft gun is hurriedly reloaded while on the upper platform the two 2cm anti-aircraft twins take chunks out of the Catalina's tail - enough damage to secure a respite from the attack. Soon they will dive to relative safety beneath the Atlantic swell.
Against All Odds by Robert Taylor - The Signatories
This print is signed by seven Knight's Cross holders:
Kapitanleutnant KARL AUGUST LANDFERMANN
Oberbootsmannsmaat RUDOLF MUHLBAUER
Kapitanleutnant HEINRICH SCHROETELER
Korveitenkapitan HELMUT WITTE
Kapitanleutnant GERHARD BIELIG
Kapitanleutnant HEINZ FRANKE
Kapitanleutnant SIEGFRIED KOITSCHKA
Overall size   32 x 23 inches.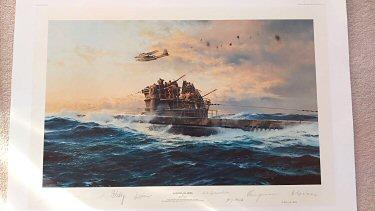 Photo of the actual print supplied by the seller.

Against All Odds by Robert Taylor 
This print was purchased directly from Robert Taylor's publishers the Military Gallery, upon its release in 1996. It was acquired with long term investment in mind and accordingly has been stored flat and dark in a high quality acid-free browser sleeve since new. It has never been framed. It is supplied with the original Certificate of Authenticity.
£ SOLD
Contact John at  jnhinman@googlemail.com
This print can be shipped to a UK address or collected direct from the seller who is located in Northallerton, North Yorkshire, in this event the high quality browser sleeve will be included in the price.
Please note this print is being sold directly by the seller and any sale arrangement would be exclusively between them and the buyer. Aviation Art World have not examined the print. The description of the print's condition has been supplied by the seller.
250 - 7 signature edition.