A RARE AND UNPRECEDENTED LIMITED EDITION PRINT SET BY ROBERT TAYLOR CARRYING THE SIGNATURES OF 28 USAAF FIGHTER PILOTS AND LUFTWAFFE JET PILOTS.
On 10 April 1945 thirteen hundred bombers of the Mighty Eighth set out to destroy the last of the Luftwaffe's jet force. But, unknown to the bomber crews and their fighter escort, the enemy jets were already airborne and waiting to spring their deadly trap. As the war in mainland Europe entered its final, bloody phase, the German Armies defending Berlin fought on with a savage determination, slowly disintegrating before the mighty weapon of war unleashed against them. What remained of the Luftwaffe was mercilessly pounded from the air, their airfields hammered relentlessly. Aircraft, fuel, spare parts, ammunition and pilots all in short supply but still they fought on, with deadly effect. At the forefront of the German offensive and pivotal during the defence of the Reich, were the highly advanced jet fighters of the Luftwaffe, and in particular the legendary Me262.
Throughout the final stages of the war there were many examples of the determination and skill of Allied pilots flying slower piston-engined fighters triumphing over the cream of the Luftwaffe in their highly advanced but often temperamental jet fighters. This Military Gallery edition has been authenticated with the original signature of Wayne Gatlin himself whose aircraft is featured in the painting, alongside some of the Luftwaffe's most famous exponents of the jet. In addition the prints are personally signed by a staggering number of WWII's most experienced allied fighter pilots, all of whom had victories against the jets of the Luftwaffe.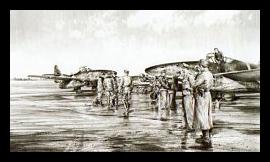 Black November Day
Matching numbered companion print included with this edition featuring the Me262 of Major Walter Nowotny.
Matted to include 5 signatures and Luftwaffe wings.
Overall matted print size   27 x 22 inches.

Jet Hunters by Robert Taylor - The Signatories
This print edition is signed by the following distinguished pilots:
Major General WAYNE C. GATLIN
On 10 April 1945 he destroyed the Me262 jet portrayed in the main painting immediately damaging another.
Squadron Leader JUREK MENCEL
Downed an Me262 whilst flying a Mustang III on 9 April 1945.
Colonel JOE PETERBURS
Shot down the Me262 of Walter Schuck, on the 10th April, 1945.
Lieutenant Colonel DON CUMMINGS
One of only two fighter pilots to shoot down two Me262's during WWII on 25 Feb 1945 – 6½ victories in total.
Colonel ART JEFFREY
The first Pilot ever to score a victory over a jet when he downed an Me163 on 29 July 1944 – 14 victories in total.
Captain WAYNE L. COLEMAN
Destroyed an Me262 on 31 March 1945 – 4 victories in total.
Lieutenant Colonel HUIE LAMB
Shot down an Me262 on 15 October 1944 and then an Arado 234 Blitz-Bomber on 19th March 1945 – 2 victories in total.
Major ERICH RUDORFFER
JG7 with 12 victories in the jet – 222 victories in total.
Oberleutnant WALTER SCHUCK
JG7 with 8 victories in the jet – 206 victories in total.
Major HANS-EKKEHARD BOB
EJG2 & JV44 – 60 victories in total.
Feldwebel ERNST GIEFING
JG 7 with 2 victories in the jet – 6 victories in total.
Leutnant NORBERT HANNIG
JG7 – 42 victories in total.
Major General EDWARD GILLER
Destroyed an Me262 on 9 April 1945 – 3 victories in total.
Captain CLAYTON 'KELLY' GROSS
Shot down an Me262 on 14 April 1945 – 6 victories in total.
Major URBAN DREW
The fourth pilot ever to shoot down an Me262 and one of only two pilots to destroy two, on 7 October 1944 – 6 victories in total.
Lieutenant Colonel DON BRYAN
Destroyed an Arado 234 jet on 14 March 1945 – 13½ victories in total.
Lieutenant Colonel RALPH DELGADO
Shot down an Me262 on 2 March 1945
First Lieutenant STEPHEN ANANIAN
Downed an Me262 on 9 Feb 1945 – 4 victories in total.
Captain JOHN FITCH
Downed an Me262 on the 18th November 1944.
Leutnant JORG CZYPIONKA
Me262 Night-Fighter with NJG 11 – a total of 2 victories in the jet.
Captain WALTER GROCE
Shot down an Me262 on 1 Nov 1944 – 3½ victories in total.
Captain ROSCOE BROWN
The Tuskegee pilot downed an Me262 0n 24th March 1945 – 2 victories in total.
Generalleutnant ADOLF GALLAND
JV44 with 7 victories in the Me262 – 104 victories in total
General JOHANNES 'MACKY' STEINHOFF
JG7 & JV44 with 6 jet victories – 178 victories in total.t – 6 victories in total.
Generalleutnant WALTER KRUPINSKI
JV44 with 2 victories in the Me262 – 197 victories in total.
Leutnant ALFRED AMBS
JG7 with 7 victories in the jet – 7 victories in total.
Hauptmann GEORG CSURUSKY
KG51 with 68 missions in the Me262 fighter-bomber.
Oberfeldwebel FRANZ GAPP Knight's Cross
400 missions and a number of victories in the Ju-88 fighter-bomber with IV./LG-1 and III./KG (J) 6 before transferring to the Me262.
Overall print size including borders  34.75 x 24.75 inches

Jet Hunters - Tribute Edition by Robert Taylor
Originally released in 2011 by Robert Taylor's publishers the Military Gallery, this print carried the signatures of an unprecedented collection of WW2 fighter pilots who had flown in, or in combat against, the Luftwaffe's revolutionary jet fighters, This version, the Tribute Edition, was signed by 27 veterans of those epic battles and sold out very quickly.
The signature of Franz Gapp was added at a later date, making this print set extra special - he has signed both the main print and the companion print.
The print was purchased from new by the seller and is in exceptional condition having been stored flat and dark and having never been framed. It is supplied with the original Certificate of Authenticity.
£595 or offers
Contact Martin at    martinwhitcombe@btinternet.com
This print set can be shipped to a UK address for £25 or collected direct from the seller by arrangement.
Please note this print is being sold directly by the seller and any sale arrangement would be exclusively between them and the buyer. Aviation Art World have not examined the print. The description of the print's condition has been supplied by the seller.
35 - 27 signature Tribute Edition.