A rare Nicolas Trudgian remarqued limited edition print paying tribute to the pivotal role of the Hawker Hurricane in the Battle of Britain.
Nicolas Trudgian's incredibly detailed painting depicts Hurricanes of 601 Squadron at the height of the Battle of Britain. Refuelled and rearmed the Hurricanes leave Tangmere airfield and climb out over a Sussex village railway station to re-join the intense aerial battle raging over the south of England.
This unique print has a double remarque in the lower border and has been counter signed by no less than 43 RAF fighter pilots.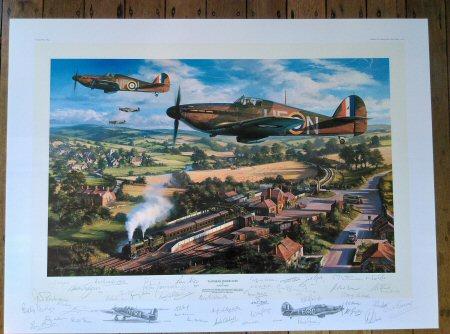 Photo of the actual print supplied by the seller. A larger image can be sent if required - just contact us.
Tangmere Hurricanes - The Signatories
This print as issued was signed by 4 distinguished Battle of Britain Hurricane Aces:
Group Captain Peter Townsend
Wing Commander Geoffrey Page
Wing Commander Roland Beamont
Air Vice-Marshal H A C Bird-Wilson

The print was later counter signed by a further 39 RAF fighter pilots including:
Billy Drake
Tom Neil
Paddy Barthrop
Geoffrey Wellum
Basil Stapleton
full list is shown at the bottom of this page.
In addition the following two signatures are included giving a total of 45:
Bob Stanford Tuck
Douglas Bader
these have been cut from damaged prints and would be ideal to mount below the two remarques if the print were to be framed.
Overall size   33.5 x 24.5 inches.
The remarques depict the Battle of Britain Hurricanes of Douglas Bader (LE D) and Bob Stanford Tuck (DT A).
Tangmere Hurricanes by Nicolas Trudgian
The print is number 5/10 Artist Presentation Edition - a small edition traditionally reserved as gifts for the pilot signers of the print. It has been given a double pencil remarque by the artist - the Battle of Britain Hurricanes of legendary Aces Douglas Bader and Bob Stanford Tuck. At a later date multiple Battle of Britain pilot signatures were added.
As a bonus, also included with the sale are the cut signatures of Douglas Bader and Bob Stanford Tuck - taken from damaged prints. These would be perfect to mount below the remarque drawings if the print were to be framed.
Purchased from CCB Aviation in the UK about 10 years ago. It was acquired with long term investment in mind and accordingly has been carefully stored flat - it has never been framed. It is supplied with the original Certificate of Authenticity and sales flyer. It is in pristine condition.
£495 plus shipping at cost
Contact Gary at garycampbell3@hotmail.com
The seller is based in Australia but the print can be shipped internationally - a stout tube will be used.
Please note this print is being sold directly by the seller and any sale arrangement would be exclusively between them and the buyer. Aviation Art World have not examined the print. The description of the print's condition has been supplied by the seller.
The cut signatures of Bob Stanford Tuck and Douglas Bader.
Full list of signers.