Combat Over the Reich, a rare Robert Taylor limited edition print commemorating the 50th anniversary of the Battle of Britain and signed by 6 Battle of Britain Aces.
During the Battle of Britain Spitfires of 92 Squadron are engaged with Messerschmitt Me109s of JG2 in a high-altitude dog-fight directly over London in September 1940.  Way below bombers of the Luftwaffe attempt one of their final daylight raids over the capital.
Combat Over London by Robert Taylor - The Signatories
This print is signed by 6 distinguished Battle of Britain Aces:
Air Commodore James Leathart
Wing Commander Harbourne Stephen
Air Vice-Marshal Denys Gillam
General Johannes Steinhoff
General Gunther Rall
Colonel Herbert Ihlefeld
Overall size   33 x 26 inches.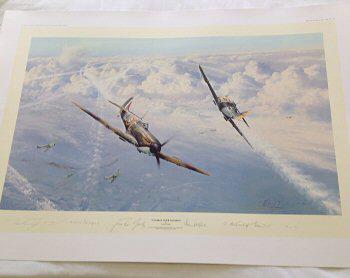 Photo of the actual print supplied by the seller.

Combat Over London by Robert Taylor 
This print was purchased directly from Robert Taylor's publishers the Military Gallery, upon its release in 1990. It was acquired with long term investment in mind and accordingly has been stored flat and dark in a high quality acid-free browser sleeve since new. It has never been framed. It is supplied with the original Certificate of Authenticity.
£350 or offers.
Contact John at  jnhinman@googlemail.com
This print can be shipped to a UK address or collected direct from the seller who is located in Northallerton, North Yorkshire, in this event the high quality browser sleeve will be included in the price.
Please note this print is being sold directly by the seller and any sale arrangement would be exclusively between them and the buyer. Aviation Art World have not examined the print. The description of the print's condition has been supplied by the seller.