Balloon Buster, a rare Robert Taylor limited edition print recording an incident near Arras, France on 29 August 1918.
Flying a Sopwith Camel with RFC Squadron 208, Flight Lieutenant Henry Botterell brings down a German observation balloon near Arras, northern France, August 29, 1918. Botterell acknowledges the observer with a chivalrous salute before departing the scene.
A very rare opportunity to acquire a print by Robert Taylor individually hand-signed by First World War fighter pilot Henry Botterell, who at the time of signing was 100 years of age and believed to be the last living fighter pilot of all nations who fought in the First Great War.
Balloon Buster by Robert Taylor - The Signatory
This print is signed by distinguished World War One Fighter Pilot:
Flight Lieutenant Henry J L Botterell
Overall size   32 x 23 inches.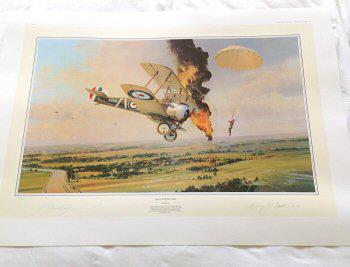 Photo of the actual print supplied by the seller.

Balloon Buster by Robert Taylor 
This print was purchased directly from Robert Taylor's publishers the Military Gallery, upon its release in 1998. It has a few mild handling kinks in the left hand white outer border that would be completely concealed by framing. The print has been stored flat and dark in a high quality acid-free browser sleeve and so the image colours are strong and in 'as new' unfaded condition. It has never been framed. It unfortunately does not have the CoA.
£200 or offers.
Contact John at  jnhinman@googlemail.com
This print can be shipped to a UK address or collected direct from the seller who is located in Northallerton, North Yorkshire, in this event the high quality browser sleeve will be included in the price.
Please note this print is being sold directly by the seller and any sale arrangement would be exclusively between them and the buyer. Aviation Art World have not examined the print. The description of the print's condition has been supplied by the seller.