Winning the Battle for Supremacy in the Skies Over Western Europe, 1941-1945.
Victory Fighters is largely a collection of eye-witness accounts of the struggle that raged in the skies over occupied Europe after the Battle of Britain. Expertly selected and interwoven by Stephen Darlow, the book centres on the stories of six pilots and one navigator, the telling of which covers every aspect of this battle over land and sea.
The author describes and analyses the relevant command decisions from the highest level down and against this backdrop the men give their accounts from the start of their flying careers through to the preparations for Operation Overlord, the invasion itself, the liberation of France, the crossing of the Rhine to the end of the war in Europe on VE-Day.
This is the Air Vice-Marshal 'Johnnie' Johnson Edition
One of a special limited edition of just 20 copies released by Vector Fine Arts. It is signed by a total of 30 veteran aircrew. The signatures are on three official bookplates. The book is presented in a blue slipcase and is accompanied by an official Certificate of Authenticity.
Signatories:
Air Vice-Marshall 'Johnnie Johnson CBE DSO DFC - 616 Sqn Spitfires
Jerry Eaton - 257 Sqn Typhoons
Ken Trott 197 Sqn Typhoons
Bob Cole DFC - 3 Sqn Typhoons and Tempests
Hugh Ross - 80 Sqn Spitfires and Tempests
Brian Spragg - 257 Sqn Typhoons
Ron Pottinger - 3 Sqn Typoons
Derek Lovell - 197 Sqn Typhoons
Derek Tapson - 197 Sqn Typhoons
Tony Liskutin DFC AFC - 312 Sqn Spitfires
Hart Finley DFC - 403 Sqn Spitfires
John Cunningham CBE DSO DFC - 85 Sqn Mosquitos
Paddy Barthropp DFC AFC - 91 Sqn Spitfires
Neville Duke DSO OBE DFC AFC - 92 Sqn Spitfires
Peter Ayerst DFC - 73 Sqn Hurricanes
Basil Stapleton DFC - 247 Sqn Typhoons
Bob Large DFC - 616 Sqn Spitfires
Ken Wilkinson - 19 Sqn Spitfires
George Baldwin CBE DSO - 807 Sqn Seafire
Kenneth Ward DFC - 894 Sqn Seafire
Art Roscoe DFC - 71 Spitfires
Eddie McCann  - 232 Sqn Spitfires
Terry Spencer DFC - 41 Sqn Spitfires
Peter Twiss OBE DSC - 807 Sqn Fulmar
James Luma DFC - 41 Sqn Mosquitos
Gerald Johnson - 357th FG Mustangs
CE 'Bud, Anderson - 357th FG Mustang
Russ Bannock DSO DFC - 418 Sqn Mosquito
Mike Gladych - 56th FG Thunderbolts.

Pages: 256, including several pages of photos.
Condition: it is in virtually 'as new', condition having been stored carefully with long term investment in mind.

Author: Stephen Darlow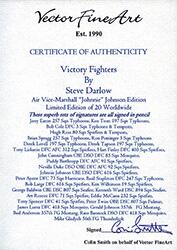 Grub Street/Vector Fine Art.
Limited Edition of 20 - Hardback.