A tribute to the fearless WW2 pilots of RAF Fighter Command.

A superb limited edition album that looks closely at 26 distinguished and highly decorated Fighter Command veterans. First released in 1984 by the Military Gallery, the album comprises 26 printed sheets (each protected in the album by a sheet of clear acetate), one per pilot, each of which has a pilot bio, notes on their squadrons, combat reports and aircraft types flown, a wartime photo and illustrations of their medals for gallantry - each profile is personally signed by the pilot.

The veterans featured include Bob Stanford-Tuck, Paddy Barthropp, John Cunningham, Johnnie Johnson and Pete Townsend. The album cover is in RAF blue with an RAF crest embossed with gold leaf. A rare opportunity to acquire this much sought after collection of signatures.

Full list of signers:
Air Vice Marshal Johnnie Johnson CB, CBE, DSO, DFC, DL
Air/Com Alan Deere DSO, OBE, DFC
W/C Bob Stanford –Tuck DSO, DFC & 2 Bars
Sir Alan Smith (Douglas Bader wingman) CBE, DFC, DL
W/C Laddie Lucas CBE, DSO, DFC
Air Chief Marshal Sir Christopher Foxley-Norris GCB, DSO, OBE
Air Marshal Sir Denis Crowley- Milling KCB, CBE, DSO, DFC, AFC
Group Captain Bobby Oxspring DFC, AFC
Air Vice Marshal David Scott-Malden DSO, DFC
Squadron Leader P W E (Nip) Hepple DFC & Bar
Colonel James Goodson (Eagle Squadron) DSC, DFC
Group Captain Peter Townsend CVO, DSO, DFC & Bar
W/C Paddy Barthropp DFC, AFC, Cross of Loraine, Order of King Haakon of Norway
G/Capt Frank Carey CBE, DFC & 2 Bars, AFC, DFM
A/Com Pat (Jamie) Jameson – New Zealand – CB, DFC & Bar, Norwegian War Cross, Silver Star (USA)
Air Vice Marshal Sandy Johnstone CB, DFC, AE, DL
G/Capt Hugh (Cocky) Dundas CBE, DSO & Bar, DFC, DL
W/C Rod Smith DFC & Bar
G/Capt Duncan Smith DSO & Bar, DFC & 2 Bars
W/c Don Kingaby DSO, AFC, DFM & 2 Bars, DFC – USA, Croix de Guerre
G/Capt 'Cat's Eyes' Cunningham CBE, DSO & 2 Bars, DFC & Bar, Silver Star – USA, Russian Order of Patriotic War
G/Capt Brian Kingcombe DSO, DFC & Bar
G/Capt Denys Gillam DSO & 2 Bars, DFC & Bar, AFC, Commander of the Order of Orange and Nassau
G/Capt The Honourable John Waddy – RAAF – OBE, DFC
A/Com Pete Brothers CBE, DSO, DFC & Bar
W/C H M Stephen DSO, DFC & Bar
Pages: 26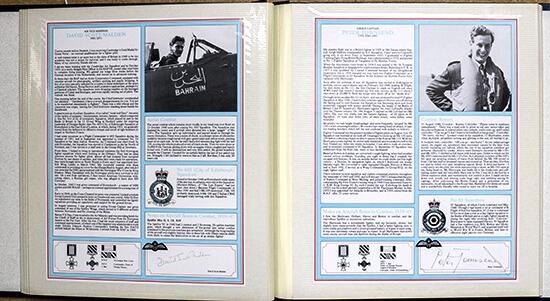 Condition: the album is in excellent condition overall with very little evidence of handing, just some slight depression in the front cover.

Comes with the original Certificate of Authenticity.